Mobile Workflows
The power to approve from anywhere
Watch theDemo
Remote Invoice and Vendor Approvals
Do you approve invoices or new vendors as part of your organization's Accounts Payable function?

Mekorma Mobile Approvals is an easy-to-use application that makes approvals more convenient than ever.
By integrating with Dynamics GP's Transaction and Vendor Approval Workflow, the app allows approvers to review and take action from a mobile device or browser, without ever logging into the GP system.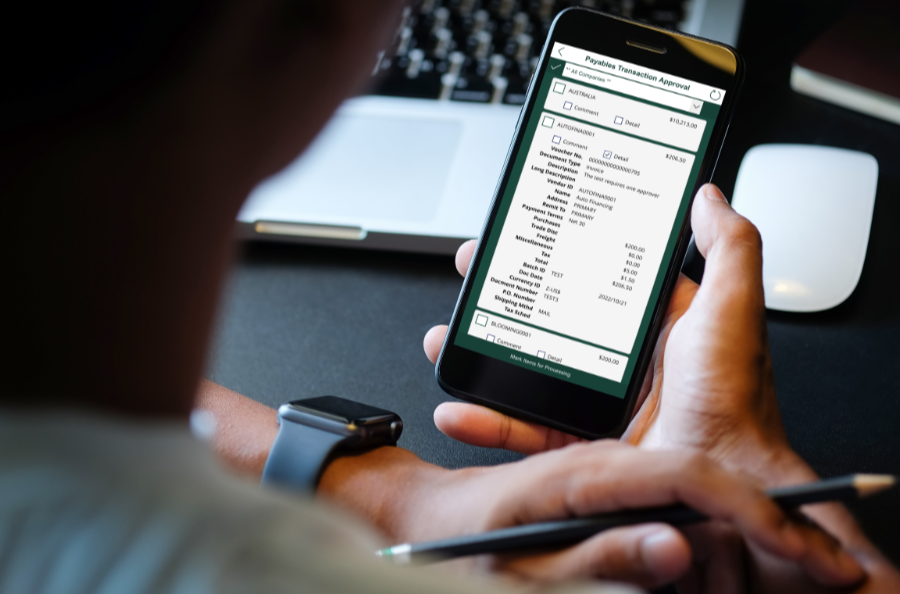 Watch the video
See what Mobile Workflows can do for you
Approve Invoices from your Phone
Dynamics GP payables transaction workflow helps your team approve invoices for payment.

But approvers have to log in to Dynamics GP or approve payables transactions one email at a time.

Mobile Workflows offers greater ease by allowing you to:
View all payables transactions you need to approve in one place
Document reasons for approval or rejection decision
Approve in bulk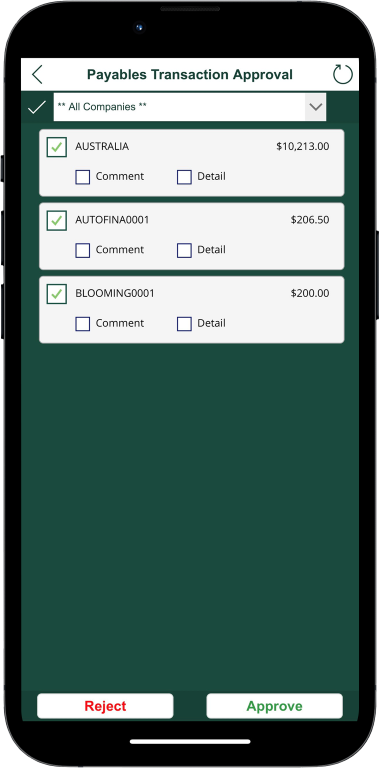 Mekorma Invoice Capture and Mobile Workflows work together for seamless invoice management
Capture
AI reads content from invoices submitted by email and pushes data into Dynamics GP
Validate
AP staff review, adjust, and confirm invoice details before submitting through GP Payables transaction workflow
Approve
Approvers access all transactions needing review in one easy mobile interface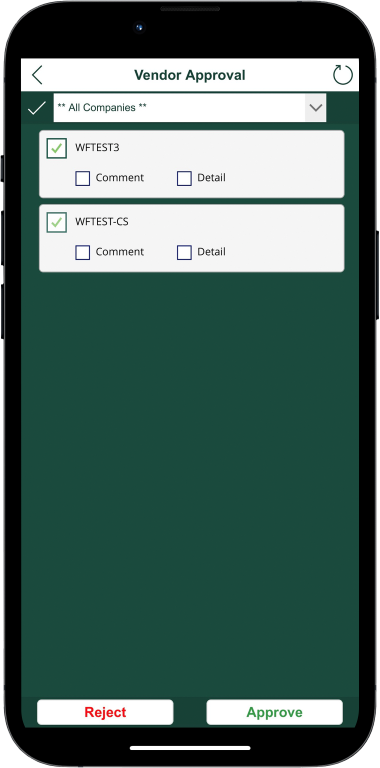 Control Vendor Setup and Edits
Dynamics GP Vendor Approval Workflow ensures that new entries to the Vendor Master File go through a defined process.

Mobile Workflows lets you approve vendors according to your GP workflow settings from your mobile device.

View, approve, or reject new vendors added to the system
View, approve, or reject changes made to existing vendors
See all vendors needing approval in one place
Your business will need the following:
1. A subscription to the Mekorma Mobile Workflows product.
2. A Microsoft Power Apps subscription from Microsoft. The Power Apps subscription model offers per-app, per-user or pay-as-you-go plan.
*Please note -
You do not need to buy an additional GP license for a user who only plans to use Mobile Workflows. They will need to be set up as a User in GP for security/approval parameters, but they will not ever need to access GP for the approval process.
You can set up as many Users in GP as you want. The number of licenses you own determines the number of users that can access the program at one time.
Not at this time, but it could in the future!
Resources for Mekorma Mobile Workflows