Eliminate Check Printing: Should You Implement In-House ACH or a Third-Party Payment Service?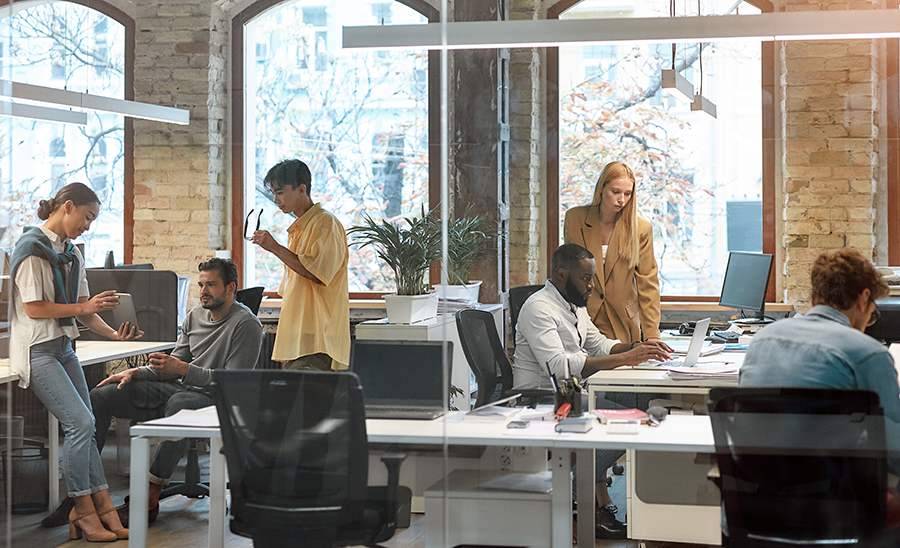 We often speak with AP departments when they're ready to transition away from check printing as a primary payment method.
But transition to WHAT? It's not always clear.
Your AP department has two options: work directly with your bank for ACH payments or outsource to a third-party service. Third-party providers can vary from simple check printing services to programs that handle multiple payment types and additional AP functions.
In this blog post, we'll explore the pros and cons based on workload, fraud mitigation/security concerns, and cost.
From Check Printing to ACH
For many AP teams, the obvious alternative to check printing is to pay invoices via Automated Clearing House (ACH) in partnership with your bank. It may seem simple enough – you've got an established relationship, and all the necessary tools within your ERP system.
But administering bank ACH payments in-house can require a significant upfront investment, which may make them time-intensive and expensive to set up and maintain. Especially if you are a large business with many vendors.
To get started, staff members will need to collect vendor banking information and input the data into your ERP system. This data must be maintained and updated securely when changes are requested.
Once you're set up, your team will still be responsible for managing and processing all transactions. This likely takes less time than the manual work of check printing.
But we've encountered many organizations that get stuck in the double-entry loop – first they log into the bank portal to enter ACH transactions, then record those transactions in the ERP system. These companies don't have the required resources to set up a treasury services relationship with the bank or to configure the ERP to generate ACH files to upload.
There's also no guarantee that 100% of your vendors will accept ACH. In that case, you are still stuck with printing checks.
With an in-house ACH payment system, you will have full control and visibility - from managing vendors all the way through payment generation and timing. The entire process is managed within your ERP and through your bank. This can provide a high level of flexibility when managing your payments.
But with control comes the responsibility for implementing strong security and vendor management protocols. Electronic payments, including ACH, are far more secure than checks – but there are plenty of ways fraudsters can misdirect funds by inserting themselves into the workflow. You'll need to make sure you're using security features in your ERP system to their full potential, like vendor approval workflows and manual verifications of account changes.
In terms of cost, ACH transaction fees paid to the bank may be small to none, but there may be costs associated with software implementation and monthly fees for Treasury Services. You'll want to understand the difference between what your bank charges for ACH processing vs. what a third-party provider charges, and weigh that against time costs and other benefits.
Outsourcing via a Third-Party Payment Service
Instead of implementing an in-house ACH program, you might choose to work with a third-party outsource provider. The services offered can range in complexity – some are simply designed to offload your existing check printing, and some partners provide electronic payment types, check printing, and other services.
Check Printing Service
With a check printing service, you'll be relieved from the need to print, fold, and mail checks. It's essentially a labor-saving service. This may be all you need if you're a small operation with few AP transactions.
B2B payments are generally shifting to automated electronic methods, which means vendors will increasingly want to receive credit cards or other electronic payments. You will have to decide whether to honor their requests and manage this internally, or decline.
As far as cost goes, evaluate how much you currently spend to process your regular check runs. Include the costs of supplies (check stock, printers, ink, envelopes, etc) along with labor. This will help you determine the cost per check, and you can weigh that against the outsourcing fees.
Full Payment Service
There are outsourcing services that include check printing but go the extra mile. These providers will also pay on your behalf by ACH, credit card, wire, or other electronic means. They may offer additional benefits like vendor management, fraud prevention, rebate programs, and risk management tools.
Vendor management services may include onboarding, maintaining sensitive vendor banking information, determining preferred payment methods, and following up on any payment issues. This benefits both you and your vendors.
Outsource providers often maintain their own vendor networks, so they probably already have a percentage of your vendors in their system. This takes a huge weight off your AP team – you'll be able to start paying vendors electronically much faster, with very little lift on your end. And your vendors get to choose how they prefer to be paid.
There may still be some level of setup and ongoing management required when working with a payment service. You might need to integrate your ERP system with the payment service provider and set up accounts. Communication with vendors during the onboarding process will be important, so they know the payment provider is legitimately contacting them on your behalf.
Payment providers generally charge a per-transaction fee, which can vary based on the payment volume and type. Checks and wires will cost you the most, as they do when processing in-house. It can be very beneficial if the service continues to run campaigns to get vendors to accept electronic payments, so that over time your costs decrease.
There may be other costs, such as implementation or monthly fees. Look into whether the service has a virtual credit card option, as that payment type is most secure and is likely to send money back your way in the form of rebates. This can offset some or all of the costs of outsourcing.
Third-party providers can provide extra layers of security. They are typically responsible for maintaining compliance with industry security standards and may offer additional features like taking on liability for payments sent through their service. One way they can do this is by withdrawing funds from your account, then paying vendors from their account. Checks do not go out with your business's banking information, so fraudulent activity can't hit your account.
Whether you use a check printing service or a full payment service, decide what level of integration you'd like to have with your ERP. Partial or non-integrated systems may mean a lot of downloading and uploading files. Integrated solutions allow you to pay as if you were printing checks and will automatically transmit to the service. Your system of record remains within your ERP and makes good use of your ERP's approval workflows.
Conclusion
Deciding whether to implement in-house ACH payments or outsource your payments with a third-party service ultimately depends on the needs and priorities of your business.
What are your goals and where are you now? Are you most concerned with cutting costs, freeing up staff time, protecting your business from fraud, or offering more payment types? Or some combination?
An in-house ACH program may cost less in terms of processing fees but take a lot more time and effort on the part of your internal staff. A check printing service will save you hours of labor, but still leave you to manage electronic payment types. A full-service outsource provider frees your team and may offer more in terms of payment types, fraud protection, and vendor management. But you'll have to determine whether it's a cost-effective solution for low payment volumes and certain types of vendors.
Ultimately, it's important to weigh the pros and cons of each option and choose the one that aligns best with your business objectives and budget.
Curious how outsourcing compares to processing ACH internally for your business?
Get in touch with us now for an ROI report.
We'll analyze your AP spend, time spent processing AP, and where you will see the greatest benefit.
Secure Your Sanity - Mekorma Remote Payment Services for Microsoft D365 Business Central & Microsoft Dynamics GP
Most Recent Blogs